Video Creation Contest for TMU students – UTM 33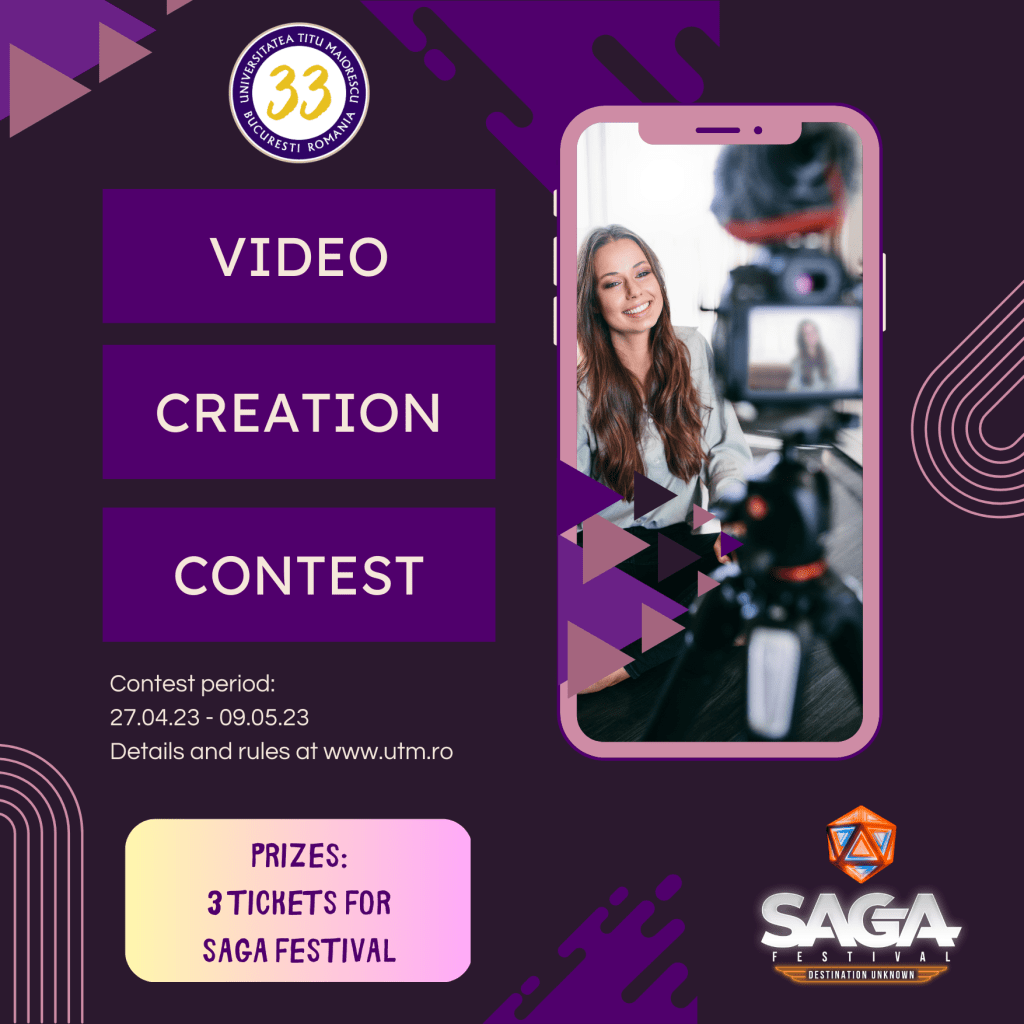 Contest Description:
As Titu Maiorescu University celebrates its 33rd Founding Anniversary, the Marketing, Communication, and Public Relations Department is organizing a video creation contest for all TMU students. The contest will consist of creating short video clips with the aim of promoting student life at TMU, highlighting its benefits, facilities, and campus.
Contest Objectives:
To generate interest and curiosity among participants for Titu Maiorescu's University campus;
To develop digital skills, technology use, and photo-video editing platforms;
To encourage artistic creativity through digital production;
To develop oral expression skills in English;
To promote content creators in the digital environment.
Contest Period:
27.04.2023 – 09.05.2023: Creation and submission of video materials by participants
09.05.2023 – 15.05.2023: Selection of video materials
16.05.2023: Announcement of winners on UTM social media platforms and the website www.utm.ro
24.05.2023: Award ceremony
Target Audience:
Students of Titu Maiorescu University, from any form of education
Video Editing Rules:
The video clip should be no longer than 3 minutes, comply with the University Carta and UTM regulations, and have a narrative story (without obscene content or content that could harm members of the academic community or the university's image). The clips can be created in the form of daily vlogs, video collages, TikTok/Reels-style, short films, etc., and must include shots of spaces within UTM. These spaces must be highlighted by the participant through creative filming techniques. The video clip can be created either in Romanian or English.
Judging:
A jury appointed by the Marketing Office will analyze each video clip created, the quality of video editing, and the ability to attract video viewers, as well as the promotion of the university in the video material.
Prizes:
Three prizes will be awarded, consisting of 3 invitations (1 Day Access) to the SAGA Festival in Bucharest, diplomas, and other surprise gifts. If the video materials do not meet the required quality, the jury may decide not to award all prizes. The prizes can be increased depending on the quality of the video materials.
The prizes will be handed on May 24, 2023, at 2:00 pm, at the Marketing, Communication, and Public Relations Office (189 Calea Văcărești, Building M, 3rd floor, Bucharest, 4th sector)
Submission of Video Materials:
We look forward to receiving your video creations at this e-mail address: marketing@univ.utm.ro by May 9, 2023, at 11:59 pm, with the mention: "for the UTM Video Creation Contest." Please provide your name, city, phone number, and faculty in which you are a student (proof is provided through a picture of your student ID uploaded in the email). The video creation must be uploaded personally to the Google Drive platform (or any other platform of your choice), from where it will be downloaded by the contest organizers. The participant must provide the download link in the email to the organizers.