Overview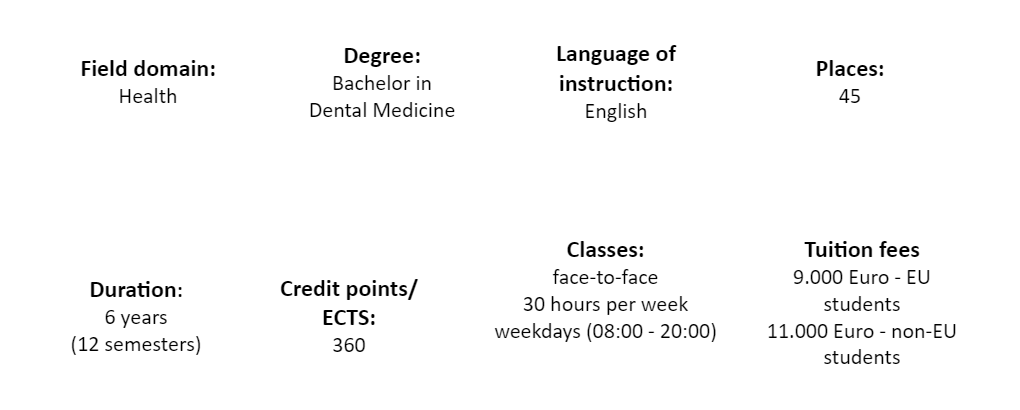 Mission
The mission of the Faculty of Dental Medicine is to train high-level, competent professionals who can rapidly adapt to the labour market.
The prestige of the Faculty of Dental Medicine of "Titu Maiorescu University" is conferred by the high-quality education that integrates knowledge and practical skills, the facilities of the highest standards offered to students, and the efficiency and the performance of the academic staff who edicate new generation of skilled dentists.
Our students have the opportunity to work under supervision with real patients and exercise their practical skills within Titu Maiorescu Private Clinical Center of Dental Medicine. Small working groups facilitate a personalized interaction with professors, aimed to improve skills and increase comprehension of the required material.
Career opportunities
After passing the bachelor exam, the graduates in Dental Medicine are officially dentists and can freely practice and exercise their profession.
Most dentists begin practicing as general dentists in several practice settings such as private medical practices, individual or associated, dental clinics  or medical clinics.
The graduates of Dental Medicine can also pursue a career based on their medical degree in various fields of activity, including dental product development, medical sales representative, medical equipment companies, specialized international activities, health insurances, research, and much more.
For specialization in a certain field, graduates of Dental Medicine can apply for further studies. 
Further studies
Specialization through national residency program

Postgraduate specialization studies

Master study program

PhD study program
Course outline
The study programs curriculum of the Faculty of Dental Medicine follows the European Union recommendations in the specialization fields and is regulated accordingly.
The academic year is structured in two semesters of 14 weeks each, with an average of approximately 30 hours per week. The classes are held during weekdays, 08:00 – 20:00. Each semester has 30 transferable study credits in the European system (ECTS).
The curriculum consists of both compulsory and elective courses, divided in three categories: fundamental disciplines, specialized disciplines and complementary disciplines, designed to establish a strong foundation in dental science, as well as vocational skills, which are very valuable dentist's practice. Displayed according to the corresponding years of study, the study subjects are structured as such:
General subjects (1st to 2nd year)
In the first two years of study, the curriculum is based on the building blocks of general notions and knowledge in the health domain. Students will learn theoretical disciplines from the fields of basic sciences (anatomy, histology, physiology, biochemistry and biophysics) and humanities sciences (behavioral sciences, languages), as well as specialized disciplines in dentistry (the morphology of teeth and dental arches, dental materials and instruments).
Specialized subjects (3rd to 6th year)
The study program curriculum integrates general medicine disciplines with specialized study subjects and practical training.
Besides the applied dental and scientific knowledge (oro-dental diagnosis, cavity and teeth preparation, prosthetics, endodontics, pedodontics, orthodontics, etc.), the students will learn general notions regarding the various branches of general medicine (from internal medicine and general surgery to infectious diseases).
The practical training of our students takes place under the coordination and guidance of the teaching staff of the Faculty of Dental Medicine in the "Titu Maiorescu" Private Clinical Center for Dental Nursing, a provider of medical services that operates within the Faculty of Dental Medicine.
The clinical activity is carried out in the specialized clinics with which the university has contracts. Among them, we list Gral Medical Hospital, Medlife Hospital, Sanador Hospital, Colentina Clinical Hospital, Psychiatric Clinical Hospital Prof. Dr. "Al. Obregia", CF Clinical Hospital No. 2 Bucharest,  Central Military Emergency University Hospital "Dr. Carol Davila", Ilfov County Clinical Hospital, Delta Health Care- Ponderas Academic Hospital, "Dr. Victor Gomoiu" Clinical Hospital for Children, National Institute for Medical-Military Development Research "Cantacuzino", with numerous clinical departments, endowed at European level with equipment and the conditions of academic education.
Syllabus of study program Dental Medicine in English.
Teaching methods
Titu Maiorescu University believes in establishing strong student-professors relations through interactive environments that allow students to connect with their peers and their professors. Thus, studies in Dental Medicine take place in small groups of 12 people maximum, and for each year of study, a professor is appointed as tutor to provide advice and teaching aid to the students enrolled in the respective year of study.
In the Faculty of Dental Medicine, the professors use various teaching methods, depending on the study subject. Most likely, the students in Dental Medicine will be exposed to every one of the following methods:
traditional learning (seminars, lectures, dissection), based on following a certain curriculum

integrated learning, based on combining theory and clinical practices

problem-based learning, based on mixing student-group work with self-directed learning

inquiry-based learning, based on students' own learning
We aim to teach our students all the necessary skills to practice the medical profession with confidence: medical competences, analytical and problem-solving skills, ability to work with and manage multi-skilled team, interpersonal and communication skills, extensive practical experience as a dentist, critical thinking, enhanced dexterity, honed eye-hand coordination skills, administrative and management skills.
Coursework and assessment
Courses are assessed using a wide range of methods including online tests, reflective essays, simulation exercises, assessed projects, clinical competency tests, verbal presentations, written assignments, viva voce and written exams.
At the end of the 3rd year of study, it is a mandatory requirement for the students to have no outstanding credits (exams) from the previous year in order to pass in the 4th year of study (to have passed all the classes and the exams from the previous years – 1st, 2nd and 3rd). It is a crucial step, that cannot be relieved.
The 6-years study program in Dental Medicine is completed by a bachelor's exam (graduation exam).
Faculty's amenities 
The faculty has state-of-the-art educational spaces: amphitheaters, classrooms, seminar and reading rooms equipped with smart whiteboards, library, publishing house, bookstore, specialized laboratories with advanced equipment, medical equipment, computer network, video conferencing equipment and more.
In the 2021-2022 academic year a new building has been put into service in the IOR campus.  This new space, built to the latest and highest architectural standards has 5 amphitheaters, 20 laboratories as well as seminar rooms.