ESTEAM Fest for Women
Empowering Women Through Digital and Entrepreneurial Competences
ESTEAM Fest is taking place on Nov 29, at Titu Maiorescu University of Bucharest, between 6 pm to 8pm you are invited to join ESTEAM Fest where young women will have the opportunity to explore their strengths, values and personal power. The event will be held at TMU Campus located in Timpuri noi, Calea Văcărești no 189.
You can participate at one of the workshops below:
Discovering your strengths & values, with Dana Puia Morel (in Romanian)
Marketing and sales masterclass with Yulia Stark (in English)
Personal branding with Mihaela Tudor (in Romanian)
Please register at this link ! (deadline November 5th) 
ESTEAM Fest for Women is organized by the European Commission together with EWA (European Women Association) and in collaboration with the organizing team from Titu Maiorescu University.
TMU Co-organizer: Anca Monica Puia, PhD
TMU:  Ioana – Raluca Mânea, PhD Associate Professor
Policy Expert, Coach and Trainer, European Commision: Dana Puia Morel, PhD
President of EWA: Yulia Stark
Vice President of EWA: Mihaela Tudor
Growth and Digital Marketing Strategist: Olivia Anghelescu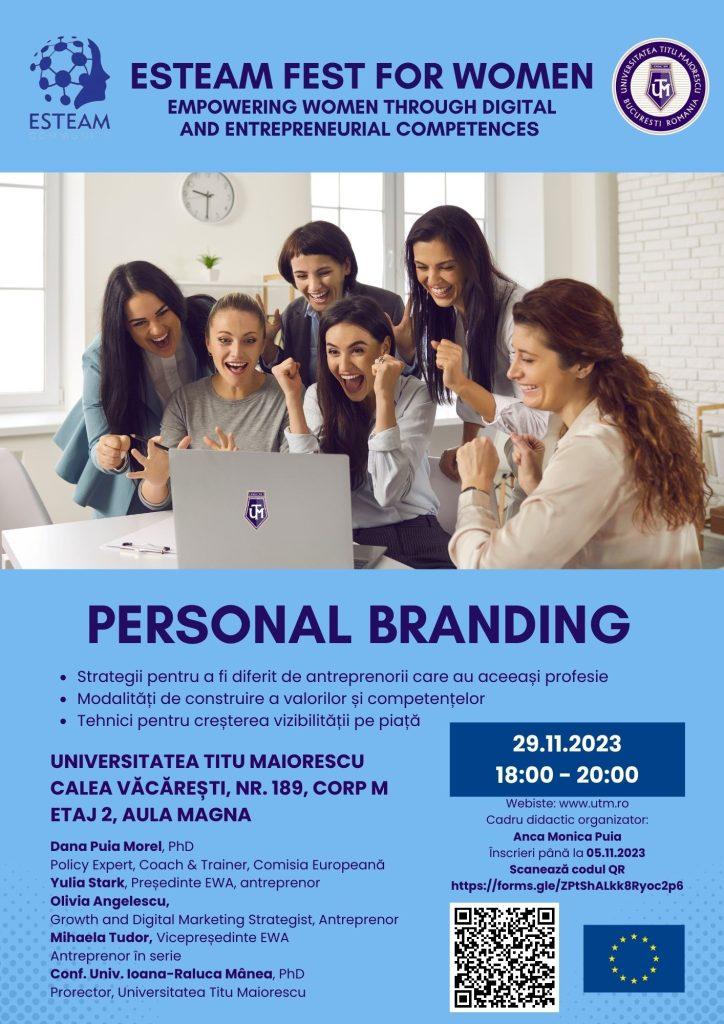 In order to advance women's entrepreneurship and support girls and women to better exploit their interests, motivations and choices, and achieve their full potential, the European Commission has put in place awareness-raising initiatives coupled with training, mentoring, and coaching.
One of these is the ESTEAM Festivals*, a four-year project that facilitates a series of workshops and online communities that aim at empowering girls and women, enhancing their digital and entrepreneurial competences, and increasing the attractiveness of studying and taking up careers in entrepreneurship, science and technology.
In its second year now, the ESTEAM Fest took place in 7 countries and more than 2400 girls and women have participated so far. The project relies on local partners – NGOs, schools, universities – that have an active role in supporting the empowerment of girls and women at local and regional level.
More information can be found here:
ESTEAM Fests and Communities for girls and women (europa.eu)
Below are some testimonies from girls and women that participated in the ESTEAM Fests: