THE INTERNATIONAL CONFERENCE ON LAW, EUROPEAN STUDIES AND INTERNATIONAL RELATIONS, 10th EDITION
on the topic of
"Law, European Studies and International Relations – The patent universality of inheritance law. Lex successionis between legislative tradition and modern values"
10th Edition
Faculty of Law
"Titu Maiorescu" University of Bucharest
Bucharest, 12-13 May 2022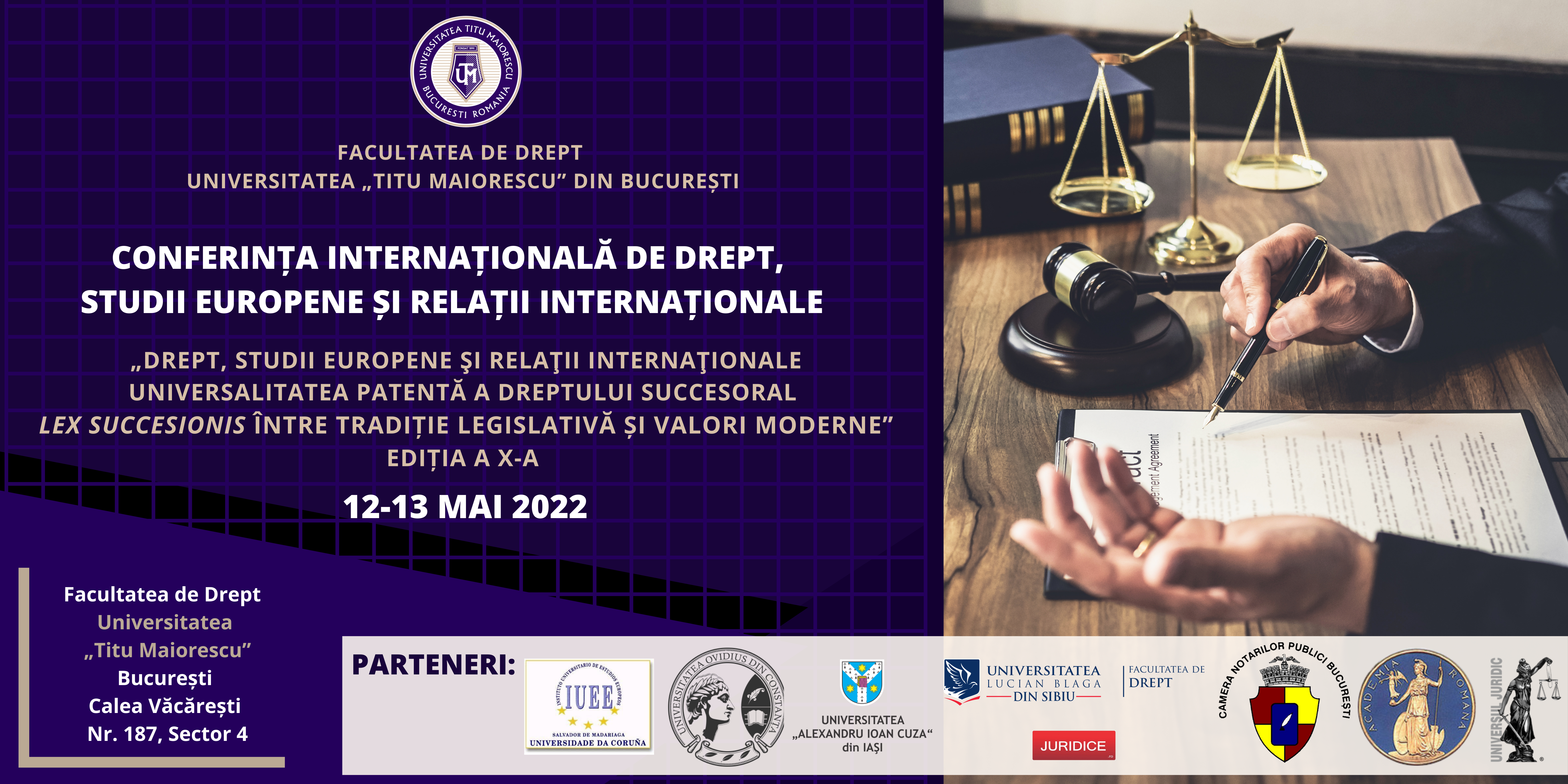 With a vast experience in organizing international scientific events, the "Titu Maiorescu" University launched in 2013 a new scientific challenge through the organization of the International Conference on Law, European Studies and International Relations. Over 430 scientific works of renowned professors, researchers and doctoral students, from Romania and abroad, were presented in the first editions. Held in three languages, in Romanian, English and French, the nine editions delighted in the attendance of over 50 professors from Universities in Spain, Italy, France, Israel, Poland, Bulgaria, Morocco, and Germany.
The volumes edited in the course of the six editions of the conference, were published by Hamangiu Publishing House, and were distributed to each participant and subsequently to sent to the most renowned professors of Romania, as well as to university libraries. The volumea are assigned ISBN 978-606-678-642-3, ISBN 978-606-27-0020-1, ISBN 978-606-27-0222-9, ISBN 978-606-27-0607-4, ISBN 978-606-27-0879-5, ISBN 978-606-27-1250-1, ISBN 978-606-27-1474-1, ISBN 978-606-27-1595-3, and are BDI indexed. The ninth edition (2021) was published by Universul Juridic Publishing House with volume ISBN 978-606-39-0912-2, ISSN 2668-0203 and ISSN-L 2668-0203 being indexed by CEEOL and HeinOnline and being indexed , contractually through publishing, in a third international database: EBSCO.
COUNTDOWN: 
---
In the current context at national and international level, the Faculty of Law of Titu Maiorescu University informs you that the 9th edition of the International Conference on Law, European Studies and International Relations will be organized on 12-13 May 2021 by means of communication meant to ensure compliance with pandemic rules for all participants.
If the legal provisions and the existing conditions at national level allow the organization of this event physically, the Conference will take place in Bucharest, at the Faculty of Law - Titu Maiorescu University, on Calea Văcăreşti no.187,
sector 4.