DEAN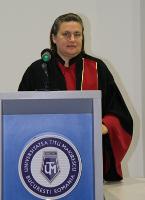 Lecturer Roxana Colette SANDULOVICI, PhD
---
CONSULTATION HOURS:
DEAN – Lecturer Roxana Colette SANDULOVICI, PhD: Tuesday 4 PM -6 PM ("Șincai" Building)
---
THE COUNCIL OF THE FACULTY OF PHARMACY
PHARMACY DEPARTMENT

Associate Professor Ion MIRCIOIU, PhD – director
Associate Professor Roxana SANDULOVICI, PhD – adviser
Associate Professor Gabriela OPRIȘAN, PhD – adviser
Associate Professor Iulian SÂRBU, PhD – adviser
THE COUNCIL
Professor Adrian ONU, PhD
Associate Professor Roxana SANDULOVICI, PhD
Associate Professor Ion MIRCIOIU, PhD
Andrei FRUMUȘELU – student
Alexandra IORDACHE – student
---
DEAN'S SPEECH
I will not try to convince you that we are the best, because we are just starting out. It is true, however, that in the long term we want to become a competitive and appreciated national and international educational institution. I would just like to introduce you to some aspects that we consider relevant about our existence and functioning.
Although it is a newly established faculty, our students are already enjoying the guidance and attention of a competent teaching staff, centred on learning and guidance throughout the academic life, based on updated analytical programs, focused on experiment, grounding and understanding of specialized information. From the beginning we had a good collaboration with our students, based on mutual respect, trust and continuous communication.
Equipped with modern and spacious spaces, the Faculty of Pharmacy offers a propitious, stimulating and dynamic working environment for both students and teachers. We constantly aim to offer our students the framework and training conditions in the desired direction, whether this means working in a pharmacy, drug production company or research laboratory.
Since in the profession of pharmacist, a good interaction with the clients is essential, one of the objectives that the Faculty of Pharmacy undertakes by default is to inspire students to be oriented to their clients' needs.
And last but not least, putting every day both "mind and soul" in teaching and research, we like to say with legitimate pride that we are the youngest "maiorescians".
Dean,
Lecturer Roxana Colette SANDULOVICI, PhD