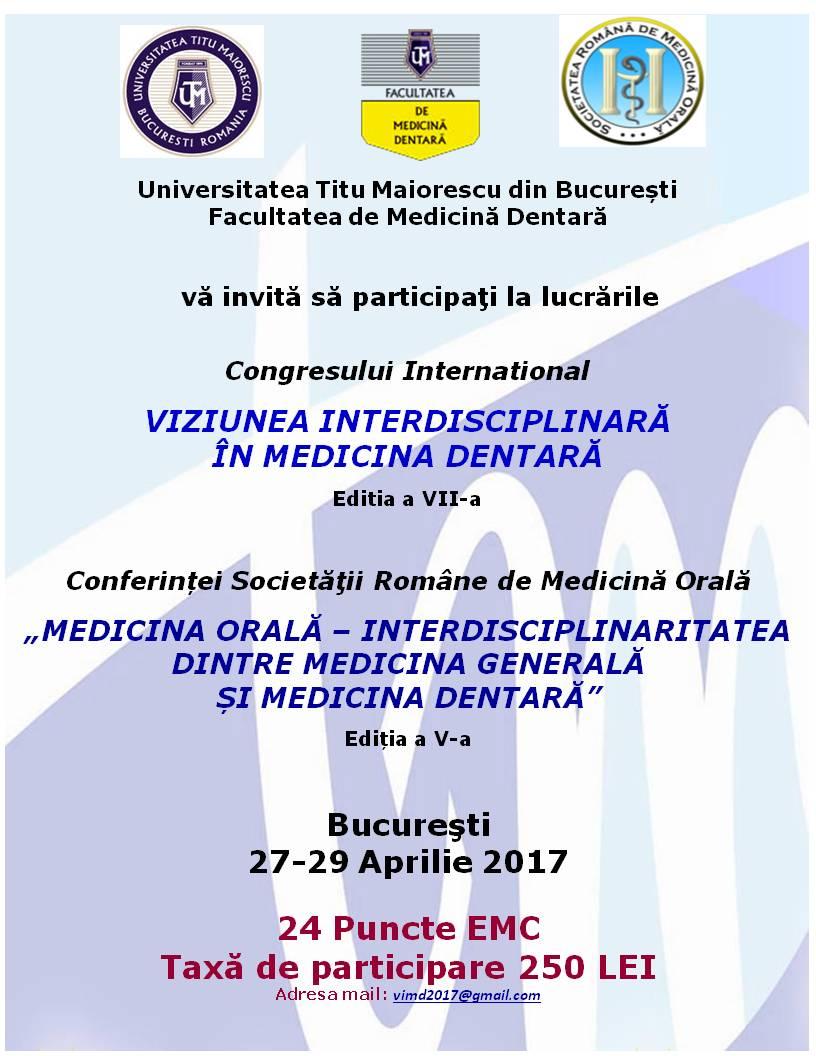 The Congress The Interdisciplinary Vision in Dentistry will be held from April 27-29, 2017, at Titu Maiorescu University in Bucharest, Body M, Calea Văcăreşti, no. 189, sector 4.
Scientific conferences, oral communications and posters will be presented in this scientific event.
We have the honor of having lecturers, invited guests from both the country and abroad, dental specialists who will hold lectures on topics of great interest.
The sections of the congress are:
Section "Interdisciplinary Connections in Dental Medicine"
Section "Interdisciplinarity between General Medicine and Oral Medicine"
Section "Scientific Communications and Poster" of Teachers
Section "Scientific Communications and Posters" of students, master students and doctoral students
The authors of the scientific papers are asked to send the titles summarized  by 01.04.2017, for analysis and selection by the scientific committee.
Summaries of lectures and scientific papers will be sent online, as a Microsoft Word 2007 attachment, to the email address: vimd2017@gmail.com
The Word document will contain:
The title of the paper in Romanian
The authors (surname, first name and, if applicable, academic title)
Underlining the name of the person presenting the work
Affiliation: the represented institution, the city
Abstract of the paper in Romanian (with diacritics), which will contain a maximum of 150 words, including the purpose of the work, the material, the method, the results, the conclusions, the keywords
The section to which the work falls
Specification of presentation type (oral or poster)
A team of authors may submit up to 2 scientific papers.
In writing, please use the Arial 11, single space font.
Poster sizes: A1 format (594 x 841 mm)
We ask that the written works have not been submitted to other scientific events.
The duration of a scientific communication is 8-10 minutes.
Authors will receive their acceptance notification by April 15, 2017.
Lectures and papers (summary) will be published on the congress CD.