INTERNATIONAL LAW CONFERENCE, EUROPEAN STUDIES AND INTERNATIONAL RELATIONS – EDITION III
Titu Maiorescu University – Faculty of Law, Bucharest, 21-23 April 2015
Theme: THE LAW BETWEEN MODERNIZATION AND TRADITION. IMPLICATIONS ON THE LEGAL, POLITICAL, ADMINISTRATIVE AND PUBLIC ORGANIZATION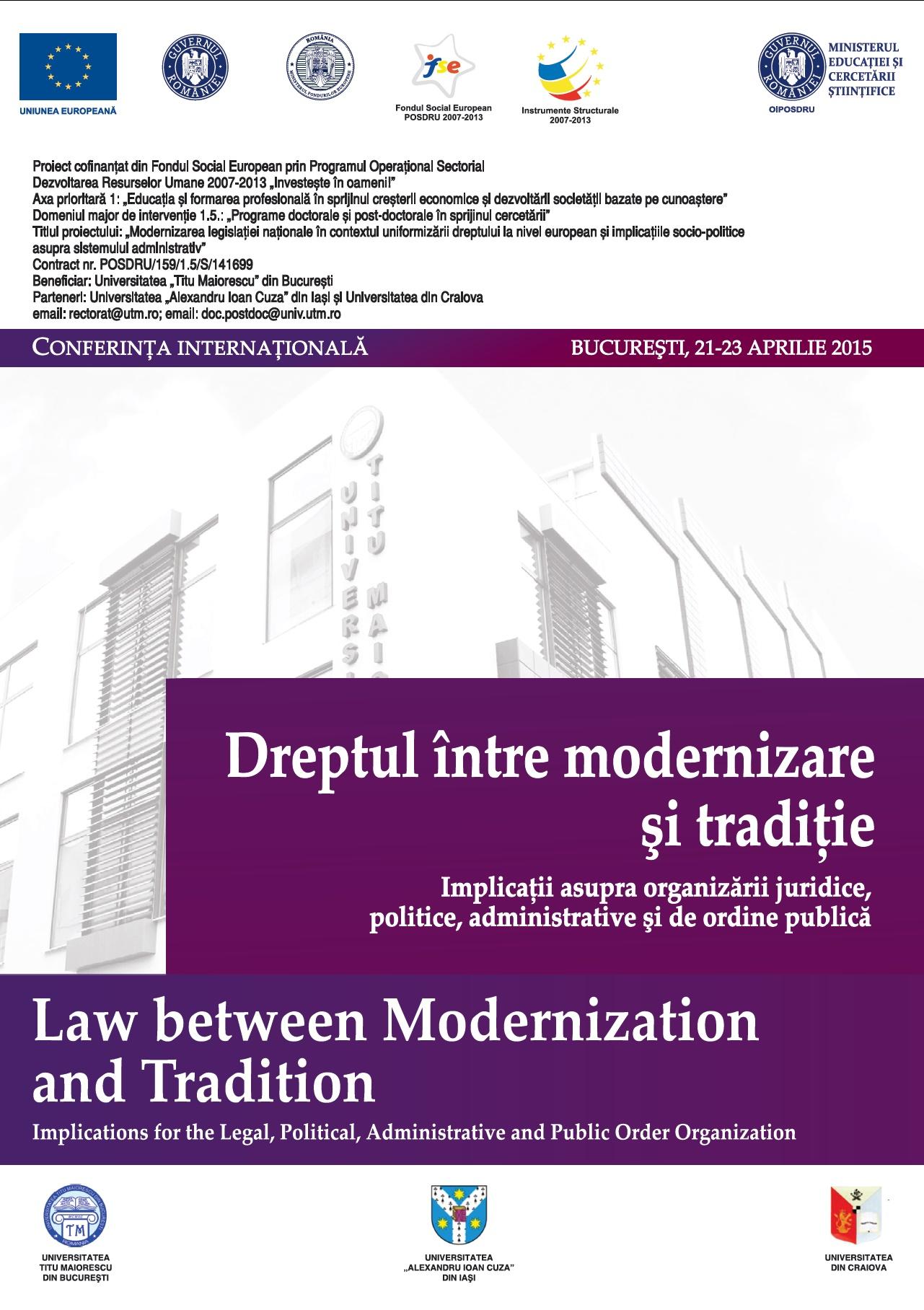 With nearly a decade of experience in organizing the international conference "Education and Creativity for a Knowledge Based Society", held in collaboration with the Romanian Academy of Scientists, TITU MAIORESCU UNIVERSITY of Bucharest launched a new scientific challenge in 2013 Through the organization of the International Conference on Law, European Studies and International Relations. The first editions featured over 180 scientific papers by renowned professors, researchers and PhD students from Romania and abroad. Trilingual, in Romanian and English and French, the two editions were attended by over 10 teachers from universities in Spain, Italy, France and Israel.
The volumes published in the two editions of the conference, produced at the Hamangiu Publishing House, were distributed to each participant at the beginning of the papers and were subsequently distributed to the most reputed Romanian professors as well as to the university libraries. The volumes are ISBN 978-606-678-642-3 and ISBN 978-606-27-0020-1, respectively.
The International Law Conference aims to bring together scientists from academia, researchers, academics, PhD students, and last but not least law practitioners, to share and share their experiences and research results on the most diverse aspects of reforming legislation in the spirit of new national, European and international currents, as well as discussing the practical challenges encountered and the solutions adopted.
We have the sincere faith that this important scientific event will be one of the most prestigious events in the national legal calendar, with an international echo, offering an opportunity to discuss current issues that affect the legal community, aiming to highlight new solutions and interpretations.
In a world where legal systems are increasingly interfering, the legal tradition requires a perpetual upgrading to respond to diversity. The conference is based on the idea that LAW does not develop abstractly, but is modeled by society, economic-social reality, Intellectual, cultural and linguistic issues, but especially immediate needs and appropriate solutions.
We invite you to be an open window of new interpretations.
This conference is organized within the project POSDRU / 159 / 1.5 / S / 141699, strategic project ID 141699, co-financed by the European Social Fund, through the Sectoral Operational Program Human Resources Development 2007-2013.
The presentation of the conference papers will take place in the following sections: Private Law; Publicly; Criminal Law and European Law.
The organization and conduct of the International Conference on Law, European Studies and International Relations-2015 is carried out in partnership with the Hamangiu Publishing House.
The conference will be held in Bucharest, at the Faculty of Law, University of Titu Maiorescu, 184 Calea Vacaresti, sector 4.
Information on the Conference can be found at Titu Maiorescu University / Faculty of Law website: www.utm.ro.
Contact: Ispas Petru?a-Elena – 0720.000.618; conferinta.drept@univ.utm.ro,
DEADLINES
Sending the study: February 9, 2015 (the study will be sent in English and Romanian)
Notification of acceptance of the proposed study: 2 March 2015
Publication of the conference program: April 8, 2015
Conduct of the Conference: 21-23 April 2015